In 2020, the Mayflower Autonomous Ship project was launched and the first full-sized, completely autonomous unmanned ship crossed the Atlantic.
The Plymouth University, MSubs, an award-winning yacht design company, and Shuttleworth Design collaborated on an innovative initiative to reenact the historic Mayflower travels from Plymouth to North America. But it was done in a distinctively high-tech way. 
The 32.5-meter-long Mayflower Autonomous Ship, or MAS, was entirely powered by renewable energy sources in addition to conventional sail power. Moreover, it was equipped with drones that allowed it to conduct experiments while at sea.
The boat was designed and constructed in scale models by Shuttleworth Design. The design has undergone testing in Plymouth University's Marine Building. MSubs built the boat and tested it for a year until it made its historic voyage in 2020.
The historic boat also offered the most effective hull form for low-speed motoring. The need to reduce windage while keeping the solar array sufficiently high above the water to lessen wave impact led to the development of its hull configuration. 
The center hull has been maintained low to the water because there was no accommodation requirement. And the wings and deck were divided and hoisted above on struts.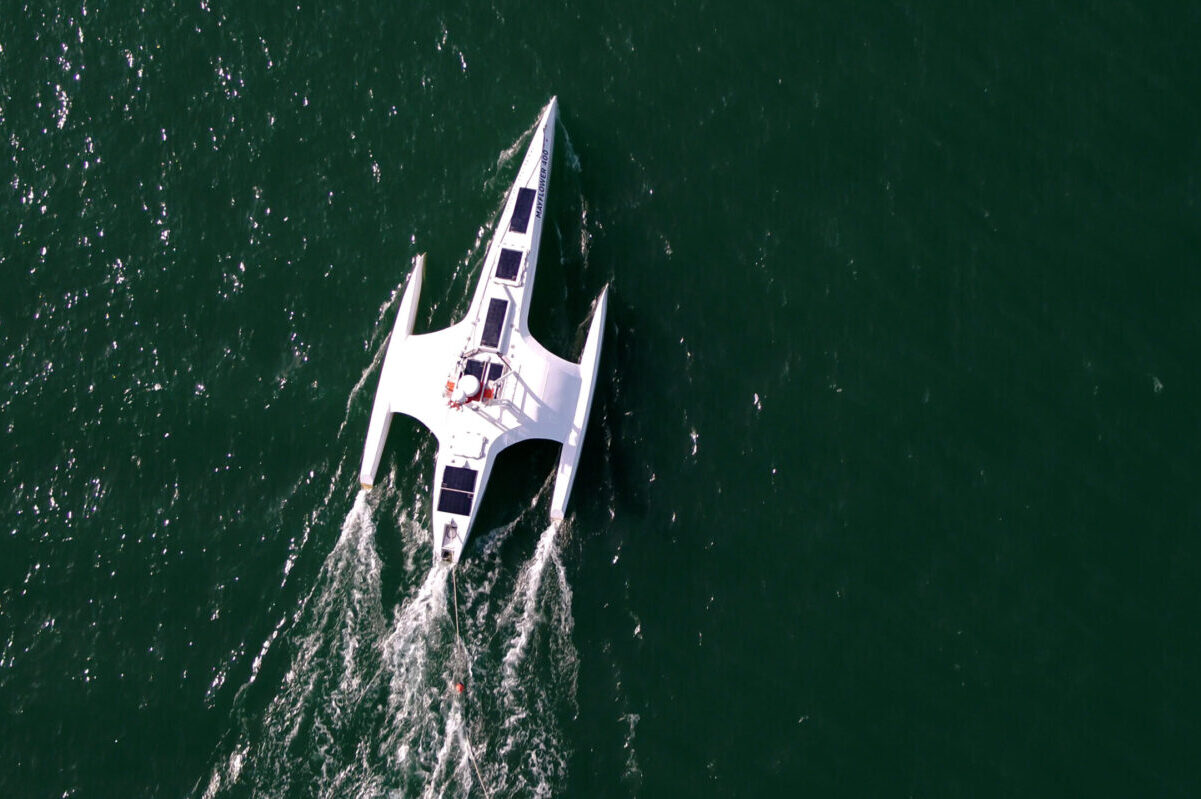 This allowed waves to smash through the boat and dramatically lessened the roll brought on by the wave impact. The outer hulls' skimming ability cuts down on resistance by 8%. Moreso, a high speed of roughly 20 knots was achieved with the two-masted soft sail arrangement. 
A single sheet handled each sail, which could furl into the boom, and allowed various reefing configurations depending on the wind speed. While cruising, stowing the sails lowered windage and removed the shadows projected over the solar cells on the deck. It allowed the masts to remain upright and support the navigation lights. 
The boat was regarded as a research vessel that gathered data on the ocean, the weather, and the climate. With initial funding from the school, MSubs, and the ProMare Foundation, the project cost about £12 million, which was raised through a fundraising initiative.
MAS had the potential to be a world-first. It was used as a research platform, which carried out a variety of scientific experiments while it traveled. Also, it served as a testing ground for cutting-edge solar, wave, and sail technologies. 
It is still used in learning more about navigational software and alternative energy sources. Students have access to a live instructional resource while the world watches its progress, allowing them to see history being made and even take part. After the historic trip, the MAS was sent around the globe to carry out more testing and study.